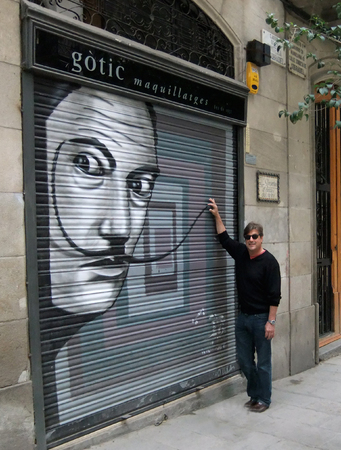 Admiring street art in Barcelona.
Scott Willis has had a distinguished career as a political cartoonist, comic strip artist and illustrator. He was the editorial cartoonist at The Cleveland Press, The Dallas Times Herald and The San Jose Mercury News. His cartoons have appeared in The New York Times, The Washington Post, Le Monde and The Wall Street Journal and on MSNBC and PBS. Scott has been painting murals for more than a decade and his work can be seen in businesses, schools, homes, and public spaces throughout the Bay Area.
Scott lives in San Jose with his wife, Patricia, a web editor at Adobe, and their black Lab, Zooey. Their son Andrew is a 2010 graduate of UC Berkeley who runs marathons and is pursuing a career in medicine. Their son Dan is a 2012 Berkeley graduate who is back at Cal in a masters program at the Goldman School of Public Policy.